Our 10 Best Ice Cream Float Flavours (and one lush recipe)
While everyone enjoys an Ice Cream, there doesn't seem to be many shouting for Ice Cream Floats, despite the lush weather. We're here to change all that.
With the Andrew James Ice Cream Maker, you can make a whole host of different homemade ice cream flavours, but it could also be used to create refreshing floats that can add a bit of fizz to your ice cream desserts.
How to make an Ice Cream Float
It could not be easier…
Simply scoop as much ice cream as you want/can into a glass and pour in the fizzy drink of your choice.
Ice Cream Float Flavours
When you've got a fresh glass of vanilla, straight off the ice cream scoop, you've got a whole host of flavours to choose from. Just think of your favourite fizzy drink. Still stuck for ideas?
Simply pick out one from this list of possible float flavours below and pour it over your lush homemade ice cream…
Coke
Root Beer
Lemonade
Cream Soda
Orangeade
Cherryade
Ginger Beer
And for those over the age of 18…
Prosecco – Just imagine luxurious ice cream mixed with luscious bubbles.
Rum and Coke – Same with the coke, just add a measure of your favourite rum in with it.
Gin & Tonic – Same principle as above. Pour however much gin and tonic as you want (we recommend 25 ml of gin and topped up with tonic) over a couple of scoops of vanilla (or lime) ice cream.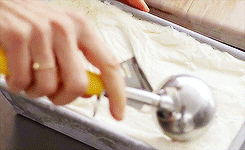 And, if that's not enough, we also have this recipe for a delicious Boozy Cherry Bourbon Ice Cream Float for you to try…
PREP TIME: 5 MINS, SERVES: 2 PEOPLE
INGREDIENTS
4 scoops of dark chocolate ice cream
115ml of bourbon
4 Glace or Fresh Cherries for garnish (optional)
2 standard size bottles of cherry soda
METHOD
Place 2 scoops of dark chocolate ice cream in each glass.
Pour in 1-2 shots of bourbon (or more if you want!).
Finally, pour a bottle of cherry soda in each glass.
Garnish each glass with 2 glace or fresh cherries.
Drink and Enjoy.
These flavours are great for Garden Parties or more informal gatherings, such as having the family and friends round for a BBQ.
Even when the weather takes a turn for the worst or for later on in the year, these are a great way to use your Ice Cream Machine.