Bacon and Maple Syrup Waffles
/
August 31st, 2018
/
There are currently 0 comments
Bacon and maple syrup waffles is a classic recipe from the USA; it's unbelievably easy to make, especially when armed with a waffle iron.
Andrew James stocks three waffle makers; the volcano waffle maker, the 4 slice Belgian waffle maker and the 2 slice waffle maker. All of these waffle makers create beautifully light and fluffy waffles that we could easily demolish by the bucket-load.
This dish can be whipped up in very little time, and makes for a wondrous breakfast, lunch and dinner!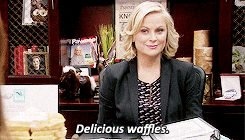 For the Waffles
Follow our Basic waffle recipe for perfect waffles using the Andrew James Volcano Waffle Maker.
For the Bacon
Now for the fun bit, cook your bacon however you wanna in as much excess as you want! Top your waffles with 2 rashers or 10 if you want; as they say everything's bigger in America!
Also feel free to make it salty and crispy or cook it on a low heat for a more meaty texture; whatever floats your bacon-shaped boat.
Now, top your waffles with bacon and smother that pile of goodness in lashings of maple syrup! Go wild!
To enjoy like a true American why not whack a knob of butter or two on top too and watch it melt and glide down your sweet creation.
This dish is an absolute hit with everyone that tastes it and we keep coming back for more. Would you recreate this at home? If you do, please send us your photos over on social! Tag us at @andrewjamesuk on Instagram and @andrewjamesltd on Twitter!